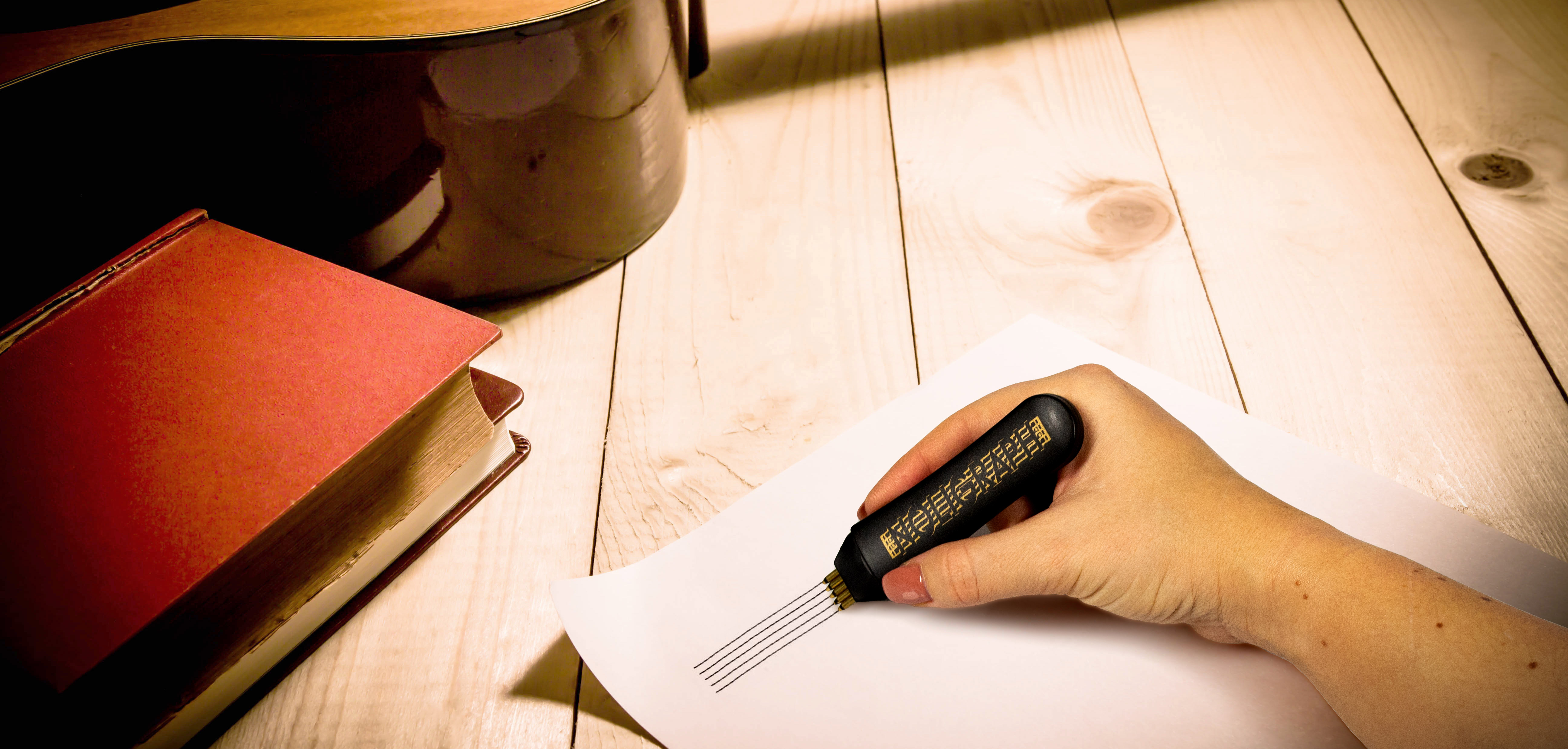 The Noligraph
Unique, popular and "Made in Germany"
draws five staff with one hand movement
for those who love to make music
Ready for use - without separate ink
with digitally measured lead
THE NOLIGRAPH – 5 LINES / 5 BENEFITS
1. EASY HANDLING
The NOLIGRAPH draws five staff lines with one hand movement
Perfect for traveling or at home
Ready everywhere to capture musical ideas before you forget them
2. EXTREMELY VARIABLE USE
Whether on a sheet, a napkin or wherever;)
With the NOLIGRAPH you can freely select the spacing of the staff systems for inserting lines of text or comments
Ideal for teachers, students and pupils and everyone who makes music
3. IMMEDIATELY READY FOR USE
The NOLIGRAPH is the only "all-in-one" solution – without separate ink
The NOLIGRAPH is ready for immediate use and does not need to be prepared before use.
4. ACCURATE AND RELIABLE
The refills are individually measured digital and carefully adjusted – for a clean typeface
Only refills from a leading manufacturer are used
A refill set lasts for 1,000 meters (500 DIN A4 pages)
5. EXTREMLY UNIQUE AND SUCCESSFUL
Proven quality for over 40 years
The original by Josef Siggemann
The NOLIGRAPH has loyal users around the whole world, such as GB, JP, NL, USA, FRA, ESP, UKR, ITA, RUS, AUS, …
Our Display – 1 Packaging Unit = 20 Noligraphs
THE NOLIGRAPH – MADE IN GERMANY
For more than 40 years the NOLIGRAPH has been manufactured in Germany.
Accurate and reliable is the focus.
The digitally measured refills are manually manufactured and quality tested.
The NOLIGRAPH – by Josef Siggemann
Josef "Jupp" Siggemann came to music at a young age and developed the NOLIGRAPH in the early 70s. After working as a music teacher in his hometown Josef Siggemann decided to study music, mathematics and history at the age of 38. During the follow-up training as choirmaster, the NOLIGRAPH was created "almost chance," as the 85-year-old Siggemann himself says. "I had to rewrite many sets of music for choirs, which cost me a lots of staves – and that's why I came up with a not line writer." That was the birth of NOLIGRAPH, which gained popularity and found many loyal customers around the whole world. For more than 40 years composers, musicians, teachers, students and pupils appreciated the NOLIGRAPH, which has captured the whole world based in Verl- North Rhine-Westphalia.
The prototype of the NOLIGRAPH from the 70s:
five ballpoint pen refills clamped in a small holder to draw clean staves in one go.
[instagram-feed num=4 cols=4]